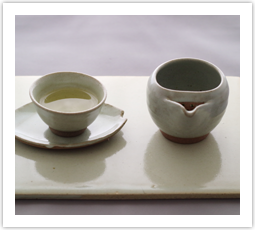 Tepota

tea & pottery

Tepota is established with the wish to reevaluate the importance of our ordinary lives among hectic days and years. It values the essential quality of time and space within everyday life, and proposes to enrich it with well-selected potteries and teas.

I was born in Tosu, Saga, Japan where my father held a pottery kiln. My life had been always surrounded by his handmade potteries. However, it was many years later that I came to realize how precious that ordinary life had been.

Having experienced the stimulating but stressful business of life, study and works in New York and Tokyo, I am now well aware of the importance of a slice of time in everyday with a simple but fine cup of tea, that is, a moment of feeling comfort naturally.

Meanwhile, I had opportunities to meet those tea farmers who had persistence and passion to produce fine and genuine teas. This encounter and subsequent friendship with them definitely encourages me to venture on starting Tepota. For me, Tepota is not just a business but an attempt to share the value of the precious time in our ordinary life with other people through tea and potteries.

This is just a small business and attempt by an ordinary person like me. But I would not hesitate to deliver something I personally find really good through Tepota. Also I would like to listen to what my customers find important to make their everyday lives a bit more precious. I come to find that it is another precious and joyful time to me to think of what Tepota can do for my customers. Yet, since stretching any attempt beyond my capacity would betray the original spirit of Tepota, I will start from what I can do. It would be delightful if seeds of Tepota naturally grow step by step with dear customers, as tea farmers do for their teas and as potters handmade their products for their customers.

If you don't mind, please let me introduce Tepota to a parcel of your everyday life.