Tepota's Exhibition 2018 in TOKYO "a drop"
June 21st (Thr)~ 24th (Sun)
2pm~9pm on 21st and 22nd ,
1pm~8pm on 23rd , 1pm~7pm on 24th
The exhibition ended successfully. Thank you.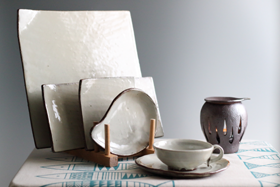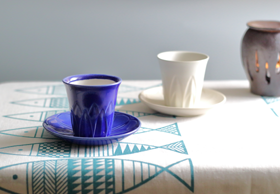 At MONO MONO, 2-12-5 Nakano, Tokyo, 164-0001
3min from South exit of Nakano Station (JR or Tozai subway)
Since established in 2016, Tepota, while dealing with excellent Japanese teas from around the country, has been introducing a couple of newly designed potteries to dear customers each year, with the help of skillful craftspeople. Now that the product lineup is getting richer, I decides to hold a small exhibition of Tepota's products at Nakano, Tokyo, which has been one of my first wishes since starting Tepota. (Actually, before Tepota, I had a successful small event of tea and potteries at Beijing in 2015, that was in a sense a launching event for Tepota. This exhibition would show the steps that Tepota has been pursued since then.)
The exhibition displays not only the lineup Tepota has been nurtured, but also several newly designed ones for this event, which are collaborated by three potters and an illustrator Tepota likes.
I will also prepare tea by Tepota's selection at the site, especially those cultivated by excellent farmers in Kyusyu, near my hometown (Tosu, Saga Prefecture).
In addition, special exhibition of potteries by Jiro Matsuo, my late father and the root of Tepota, will be held at the same time. I think this is a good and rare opportunity to show his works and spirit through them.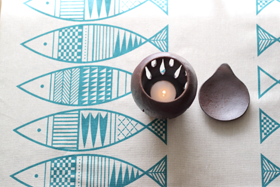 The theme of Tepota's exhibition 2018 in Tokyo is "a drop". June in Japan is a rainy season, and thinking of raindrops, I was evoked by an image of a drop of the tea poured into a teacup. I hope this event becomes an opportunity to feel the tenderness and sounds of slowly trickling out drops…
Special Workshop of Gyokuro On June 23rd (Sat)
Gyokuro tea would be the best for the theme of "a drop". On June 23rd, special workshop sessions are going to be held, which will introduce you how to make and have a cup of delicious Gyokuro tea. The tea itself is Yame traditional Gyokuro, but the method would not be too traditional but rather casually enjoyable. For those interested, please check out the Tepota's website or Facebook, where you can apply for the participation in the workshop since June 1st. (Information available only in Japanese.)

Afternoon session(2pm~3:30pm):
Theme: Enjoying Gyokuro with hospitality and good conversation
Evening session(5pm~6:30pm):
Theme: Good relationship between Sake and Gyokuro, a bit matured way of enjoyment
Each session will have 6 participants at max.
Instructor: Ms. Kazumi Nakatani at Yame Kumaen (Japanese Tea instructor)
A member of the Yame farmer that won the first prize at national tea fair in 2017, and also a finalist of the national competition of good Gyokuro brewers.